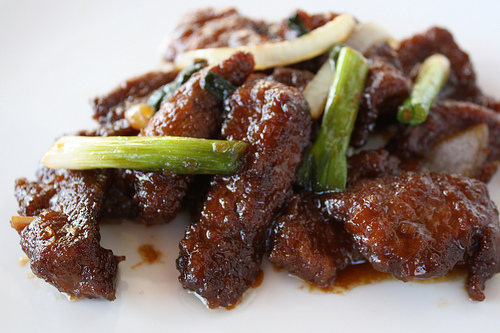 If you've ever been to PF Changs, you've probably tried their delicious Mongolian Beef dish. This recipe is very similar (via Your Homebased Mom), simple to make (took me 30 minutes max), and tasty tasty tasty!
1 lb top round steak or flank steak, cut thinly on the cross grain (An easy shortcut...I used pre-sliced "stew" beef and cut it in half to make the pieces thinner)

1/4 C cornstarch
3 tsp vegetable oil (I used sesame oil)

1/2 tsp grated fresh ginger or minced ginger (I used dry ginger spice)

1 Tbsp minced garlic
1/2 C water
1/2 C soy sauce

1/2 C brown sugar
2 Tbsp rice wine vinegar
3 green onions, sliced into 2-3″ pieces
Dry off meat with a paper towel and slice into 1/4″ thick slices against the grain. Add to a bowl with the cornstarch and coat thoroughly.
Add 1 1/2 tsp oil to a wok or large frying pan over medium heat. Add the garlic and ginger, stir until fragrant. Add soy sauce, water, rice vinegar and brown sugar. Cook for about 2 minutes and remove from pan.
Add remaining 1 1/2 tsp oil to pan over high heat. Add the meat and cook until brown on all sides and slightly crispy. Pour sauce back into pan over meat. Add green onions, stir and remove from heat. Serve with rice. EnJOY!
*serves 3-4 people