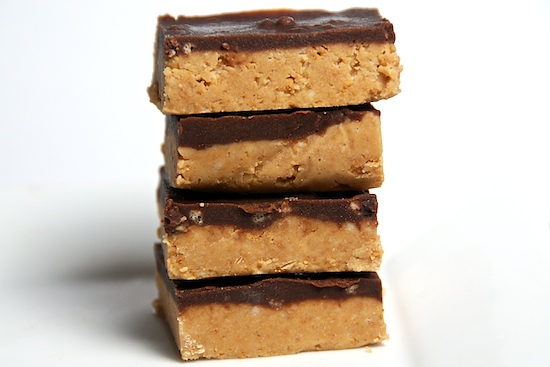 These are glorified Reeses peanut butter cups and are oh so delicious! I remember making them growing up and just stumbled on the recipe - which of course reminded me how much I loved them and so I made them and have since devoured way too many!

1 1/2 C graham cracker crumbs (about 1 1/2 packages)
3 1/2 C powdered sugar
1 1/2 C creamy peanut butter
1 C (2 sticks) butter, melted
2 cups chocolate chips (milk, semi-sweet, or dark, you pick!)
a spoonful of peanut butter
In a large mixing bowl, combine graham cracker crumbs, powdered sugar and peanut butter and butter and beat until combined. Press into a parchment (or waxed paper or foil) lined 9x13 pan.
Place chocolate chips and spoonful of peanut butter in a microwave safe bowl and heat in 30 second intervals, stirring after each one, until melted and smooth. Pour chocolate over peanut butter mixture and spread out evenly. Place pan in the fridge just until chocolate is set and then cut into bars.
Enjoy!